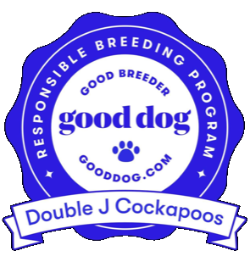 At Double J Cockapoos, our mission is to match families with a precious cockapoo puppy that will fit their needs and lifestyle and become a much loved addition to the family!
How it all began...
I have spent years loving dogs, whether as a child, growing up on a farm and having working cattle dogs or as an adult and having pets as part of my own family. As a mother of 3 boys, I won't list all the critters that have or are currently living in my home, but while I may enjoy watching my boys take care of their pets, my love is for my cockapoos.
About 10 years ago, I was introduced to the cockapoo breed and was immediately hooked. In 2015, when looking for a new family addition, I started searching for a reputable breeder. Can I just tell you, that was the longest, most frustrating search I have experienced in a long time! "Breeders" couldn't answer simple questions, they weren't health testing their parents, they were raising puppies in kennels; it was just a business. After 6 months of searching, I finally found a breeder I could trust and brought a wonderful baby girl into our family.
Though my intention was never to raise puppies, my struggle stirred a passion in me. If I struggled to find someone I felt comfortable working with, surely others were as well… thus, Double J Cockapoos was born.
My desire (in addition to loving my dogs and spoiling puppies) is to connect with families, get to know them, and help them find the puppy that will fit into their home and become a well loved member of the family. I encourage families to look around our site, do your own research, and ask questions… Adopting a puppy is a lifelong commitment and not something to enter into lightly. When you're ready to make a comment, let's chat!
"There is nothing truer in this world than the love of a good dog."
Mira Grant
Testimonials
Amanda was so easy to talk to and work with. We could tell that they put alot of time and care into him. He was one of the best and easiest puppies we have ever gotten. You can tell they actually care about their puppies. I would not hesitate to purchase from Amanda again! We love our Kirby!
My experience with Amanda at Double J Cockapoos was the most professional experience I have had in a long time. From her engagement in helping me find the right puppy for my family to the third party vendor she recommended for pet transport it really was a professional experience where I felt totally at ease knowing I would receive our puppy Bentley.
At the beginning we 99% wanted a female but on her suggestion we ended up going with a male. Based on what we were looking for as far as personality he really is perfect for what our household needed. His feet never touch the floor, he just goes from person to person. So thankful we met Amanda and I wish you nothing but the best. You answered all the questions we had and have shown an interest in our puppy even after he has been settled in our home. Can't recommend Double J Cockapoos enough.
The experience I had with Double J Cockapoo was better than I could have ever imagined. They were so experienced with their knowledge and advice that has helped me with all questions I have to this day. I've had Cookie for 5 months. She is 7months and came to me as the most beautiful and healthy little puppy. I am so lucky to have found them.
Back on April 9, 2021, Amanda Prescott posted this picture of who was to be our new puppy, Kaley. She stole the hearts of Sonia and Jerry Lansche.
From that moment on, Amanda's life and ours would be entwined. Amanda was professional, courteous, friendly, and most of all, loving. From the first, we knew Amanda was someone who would not let any of her precious cargo go to someone she didn't trust.
Amanda gave us plenty of tips about adopting a new puppy, ranging from food recommendations and potty training to behavioral adjustments for Kaley and advice on how to blend her into our household which already included one cockapoo. She couldn't have been more helpful or supportive.
We drove two hours to pick up Kaley—Amanda met us and another adopting family halfway—and our wonderful adventure began. It's been seven months now since this little angel came to join our family and Amanda has kept in touch with us, checking in periodically to make sure that everything was okay.
Sonia and I give Double J Cockapoos our highest personal recommendation and the same recommendation, plus much love and gratitude, to Amanda for expanding our family with the most precious little nugget ever.
Can't imagine life without my sweet Hudson! Double J Cockapoos were very helpful and always available to answer any questions that I had, even months after getting him!